Incorporated in the year 2000 as a manufacturer and supplier of processed Bitumen based products, Bitumix (Private) Limited has exponentially grown to great heights during the past years. Today, The company holds forte as the flagship player in processed Bitumen products manufacturing and supply in Sri Lanka with a wealth of technical expertise, production capacity, quality assurance and an islandwide distribution capacity. The spectrum of our Bitumen product range includes applications for road construction, civil engineering and industrial sectors. Our well equipped and state-of-the-art manufacturing facilities at Templeburg Industrial Estate in Homagama and Medawachchiya are professionally managed by qualified and experienced staff. With a strong emphasis on product quality, technology and customer service with continues improvements focusing upon innovative products and methods, Bitumix (Private) Limited has secured its leadership position in the Sri Lankan Bitumen Industry. Several quality accolade including ISO 9001:2008 Quality Management System certification ensures Bitumix products match the international industry specifications and standards. Our well equipped quality control laboratories and research and development facilities of a superlative kind; together with a team of ingenious consultants, resourceful professionals and qualified staff members contribute immeasurably to the continuous improvement of the company's technical strengths; paving the way forward for a dynamic corporate journey.
Our Vision
Preserve our position as the benchmark of Sri Lankan Bitumen industry on Quality, Technology, Customer Service and Technical Innovations whilst having a strong presence in the International Bitumen market.
Our Mission
Contribute to the development of Sri Lanka by supplying premium quality Bitumen products and introducing new technology/innovative product solutions for the advancement of processed bitumen industry while earning foreign currency and maximizing the value of the company to the stakeholders.
Corporate Social Responsibility
Our Corporate Social Responsibility (CSR) programs are embedded in our values which portray how we conduct business in a way that give meaning to our goals and commitments towards benefitting the society. Ultimately, we strive to add value to our community and the economy of the country as a whole, through making sustainable spaces for our society.
Some highlights of the CSR and community development initiatives we engage in are,
Bitumix Shishyadhaara Scholarship Programme
Sisu Senehasa Programme www.sisusenehasa.com
Assistance to Religious, Health and Educational Establishments
Building Homes for needy families
Sponsoring community development programs
Conducting educational programs for technical staff in the industry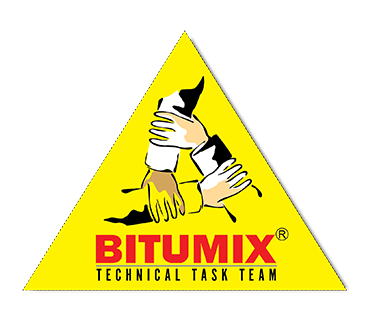 Bitumix Technical Task Team
As the forerunner of bitumen industry of Sri Lanka, Bitumix Private Limited is setting the new standards in the industry by introducing Bitumix Technical Task Team – a technical support and assistance team to resolve the common issues related to bitumen use in the industry.
We channel expert advice on technical queries related to bitumen use from local and foreign professionals, organize workshops and in-house assistance service to share our technological expertise to help you to effective use the bitumen & bitumen based products. Become educated about the latest development and the best practices of the industry from the qualified professionals.
CONTACT BTTT HOTLINE – 0722 326 990